RNJ is a media that facilitates the publication and archiving the work or an article of nurse researchers. Articles published in this journal can be in the form of research results (original articles), literature studies (literature reviews) and case reports. Nursing articles in this journal include the sub-fields of basic nursing, medical surgical nursing, maternity nursing, pediatric nursing, mental nursing, gerontological nursing, family nursing, community nursing, nursing management, and nursing education. RNJ published by Universitas Fort De Kock in collaboration with Professional Organizations and Indonesian health research organizations. Each manuscript is sent through an online process and reviewed by a reviewer partner who will later determine whether the manuscript can be published or not in this RNJ journal. This RNJ is published 3 times a year, namely in April, August and December.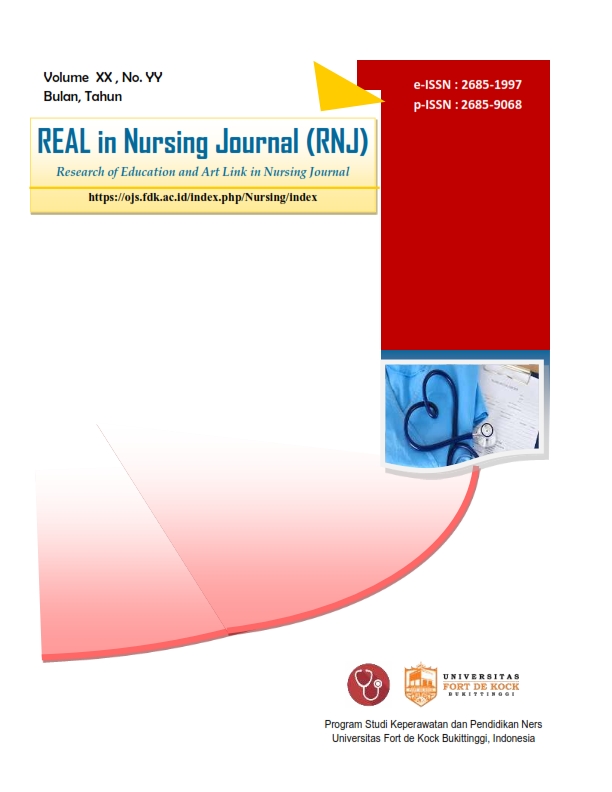 Naskah harus disiapkan sesuai dengan template panduan penulis berikut: RNJ TEMPLATE
---
---
The executive team of REAL in Nursing Journal (RNJ ) invites the author to submit the article here.
Important Dates:
Paper Submission Date: Anytime
Acceptance Notification: 2-4 Months from Submission Date

Online Publication Date: Last date of April, August, Desember
RNJ : REAL in Nursing Journal , with registered number e-ISSN: 2685-1997, ISSN Cetak: 2685-9068 have been indexed on:
Vol 6, No 2 (2023): REAL in Nursing Journal
Table of Contents
Articles
| | | |
| --- | --- | --- |
| | Ghina Salsabilla, Fitri Mailani, Elvi Oktarina | 88-98 |
| | | |
| --- | --- | --- |
| | Bunga Permata Wenny, Ita Purnamasari, Fitra Yeni, Rika Sarfika | 99-109 |
| | | |
| --- | --- | --- |
| | Kinar Serenity, Maria Komariah, Aat Sriati | 110-126 |
| | | |
| --- | --- | --- |
| | Mulyanti Roberto Muliantino, Fitri Mailani, Wendo Dafris | 127-134 |
| | | |
| --- | --- | --- |
| | Abdullahi Haruna Ibrahim, Hussaini Muhammad Aikawa, Muhammad Awwal Ladan, Sa'adatu Muhammad Sani, Rahmatu Shamsiyyah Iliya, Auwalu Mohammed, Usman Ibrahim | 135-141 |
| | | |
| --- | --- | --- |
| | Silvia Mareti, Restu Amalia Azmy, Adiyati Mardiyah | 142-149 |
| | | |
| --- | --- | --- |
| | Muthmainnah Muthmainnah, Gusti Sumarsih, Sri Dinda Andrifa | 150-157 |
| | | |
| --- | --- | --- |
| | Yuanita Ananda, Edo Gusdiansyah | 158-164 |